View more images for this hotel | Return to News listing
Michelle carried out an assignment for the Mandarin Oriental hotel in Singapore photographing by day, dawn and dusk their salubrious new pool area.
The pool has various levels with a state-of-the-art design, including a wet deck for lounging; an infinity edge cascading onto small, round, sea-smoothed pebbles; cosy, solid-teak cabañas for two with earth-toned interiors; relaxing ambient music; and superb views of the city. The whole area has a "resort" feel - an oasis from the hustle and bustle of booming Singapore.
The new pool area also boasts a sky terrace - a great place to chill and watch the sun do down, with unrestricted views to many of the emblematic, iconic buildings of Singapore's skyline. The hotel's Dolce Vita Italian restaurant is renowned for its superb Mediterranean cuisine, and features a spacious function area which can host anything from product launches and corporate events to private outdoor family celebrations.
In terms of a long-haul assignment and airline weight restrictions on camera gear, it was a delight to find camera rental shops with extremely competitive prices, stocking the latest in digital equipment, a delight for any professional photographer on the road. External hard drives at a snip of the price in Europe make it easy to have that extra security copy of your assignment, with a very reasonable price tag.
Michelle returned to Singapore to complete this photography assignment a month later. The skies of Asia are constantly changing and the second trip gave additional days to capture those super-blue skies.
This new pool area has a "resort feel" to it - the perfect city oasis. The tropical climate of Singapore means that luxuriant exotic flowers and foliage grow bountifully. The architects have carefully integrated nature into their design, not only enhancing the visual appeal but providing more interesting angles for a photographic reportage.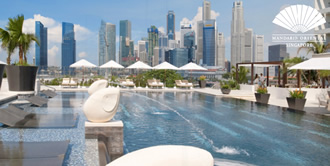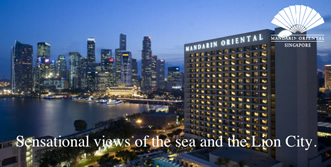 On this second shoot for the Mandarin Oriental, Michelle captured various night shots, one of which has been used as a signature image on the Mandarin Oriental website.