Rosemary Trigg, an experienced communication professional and marketer, with a wealth of experience in hospitality, explains exactly why the words on a hotel website, are just so important.
An authority in the luxury hotel sector, we are delighted to share Rosemary´s top five tips for perfect multilingual copy.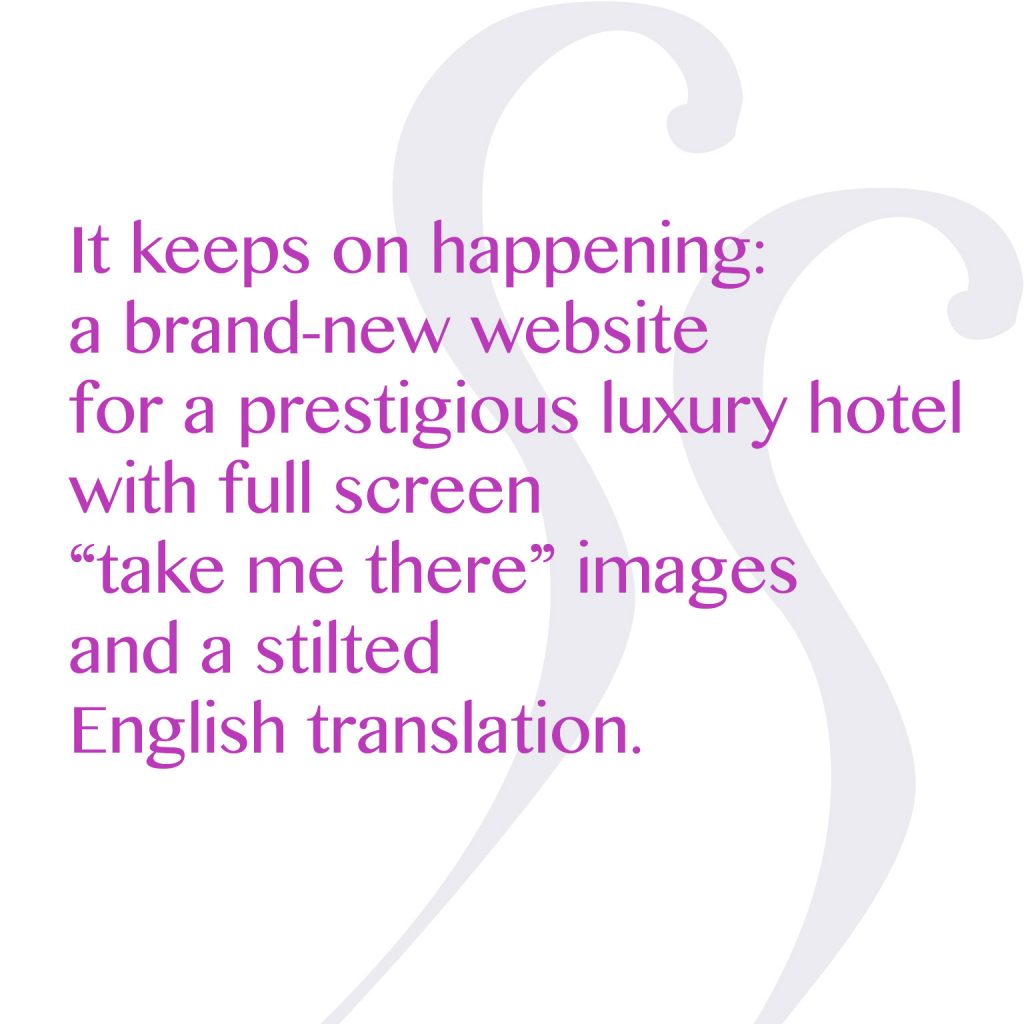 We all understand that photos and images communicate our brand instantly and value the importance of having a professional photoshoot to ensure that our messages are transformed into "take me there" photos. Online however we need to ensure that we can reflect our messages consistently whichever language we use. It keeps on happening: a brand-new website for a prestigious luxury hotel with full screen "take me there" images and a stilted English translation. The investment in a hotel website, photos and positioning let down by an awkward translation of the well-crafted original copy.
Three real life examples of how words on a hotel website can be both misinterpreted and misrepresented in a second language.
It may just sound strange:
"The rustle of the lapping waves take a backseat to the wild and genuine dishes of xxx, caught daily and served right to the table"
Be incorrect:
"The hotel counts with and Spa"
Or just sound unappealing
"Table side matured cow steak tartare"
Great translation is key to creating the unique atmosphere for each hotel that sounds inviting and attracts guests to find out more, whatever their language.
In the highly competitive travel industry, we are acutely aware of the importance of the online reputation of our brand and the need to create compelling content and information in our own digital channels. This year in particular we need to show who we are and give clients timely updates letting them know how services have been adapted to new safety procedures, if hotels are open or restaurants have outdoor spaces available.
Time after time however the opportunity to ensure an engaging, consistent brand image is lost through a lack of attention to translation and copywriting in all languages.
It is essential to create equally inspirational copy in each language, to convey your message. English is particularly important for a global audience.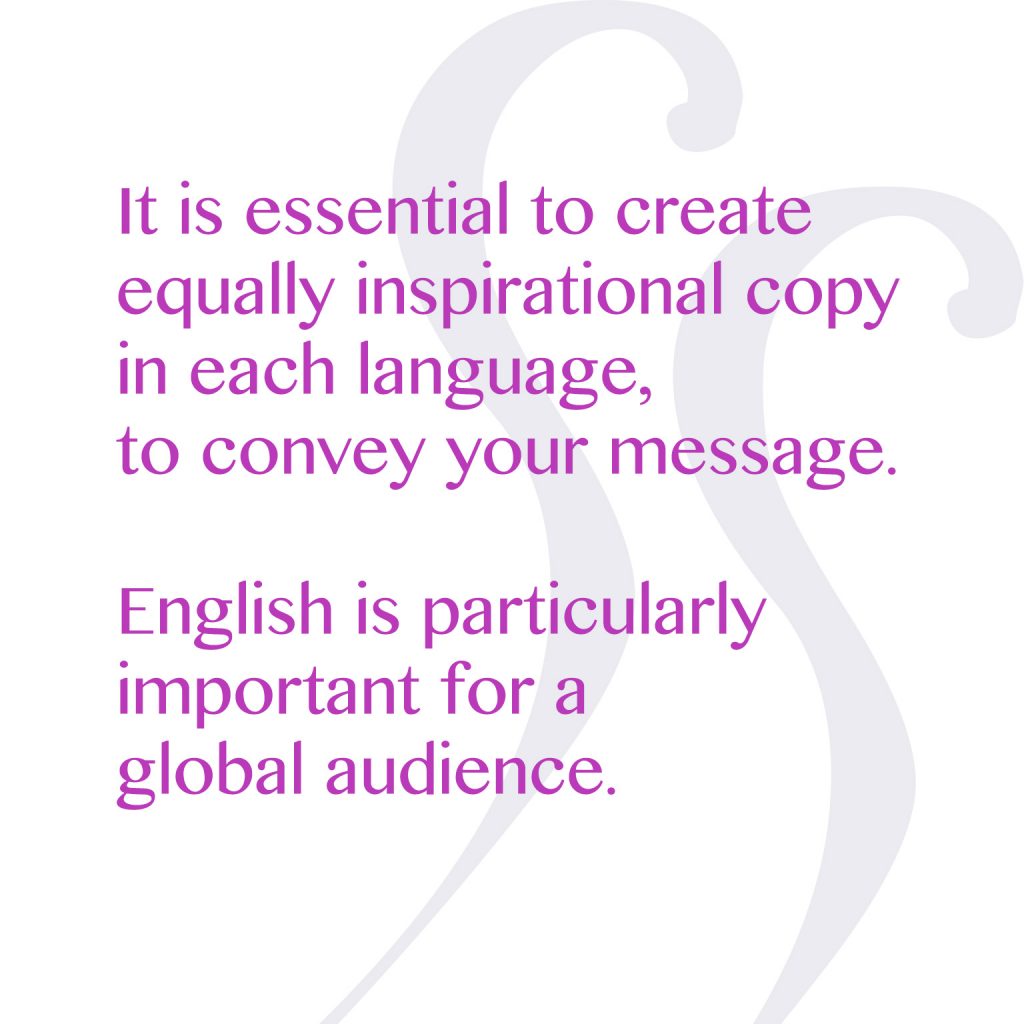 Here are some top tips based on my personal experience and many hours of re-working copy!
5 top tips for perfect multilingual copy
Employ a professional translator who is a native speaker in the target language. Ideally it would be someone who is experienced in the hospitality industry. Give them guidelines on brand style and vocabulary and the freedom to follow the meaning rather than a strict word by word translation.
Define copy in main language. Develop the final, corrected text in one language and once that is perfect, move on to the others. This saves time and money, avoiding re-writing and constant reviews to check the changes in each language.
Look for specialists. Take time to select the right professionals and stick with them, they get to know your brand and you can get better results faster, this also means that the brand voice is consistent over time. Whether you need restaurant menus translated or hotel web copy written, find a specialist.
Double Check. In my experience even the most seasoned translator can sometimes leave in oddly phrased "direct" translations. The solution is to ask either a journalist or experienced travel industry marketer, to review the translation. Best practice is to have a trusted professional to copy edit and double check the content and style with fresh eyes. Remember to guide them on the tone and brand style you want to reflect.
Build in time for translations and reviews: This is usually one that gets sacrificed as deadlines loom, but if you can plan ahead you will get the best result. Allow enough time for the copy to be written and reviewed before it is needed to go live.
Bio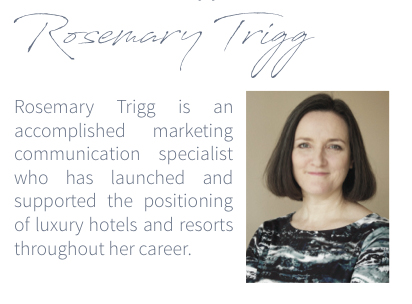 Rosemary is an experienced communication professional and marketer working in the hospitality industry.
With a wealth of experience in global brands including The Leading Hotels of The World, The Ritz-Carlton Hotel Company and Fairmont, she has broad industry experience, an in-depth communications expertise and is a specialist in luxury hotels.
She has led multi-disciplinary projects across marketing, sales and media relations and managed marketing and communication for hotels and resorts throughout Europe. Managing multiple language texts and aligning messages for different markets has been a constant part of her day to day over many years.