The Hotel Essence Photography Blog
Welcome to our Hotel Essence blog, founded by award-winning hotel photographer Michelle Chaplow, specialist in luxury and historic hotels. Michelle shares her world of luxury hotel photography, and we also highlight individual Hotels from the cutting-edge contemporary to world-renowned heritage hotels.
To find out more about Michelle's career trajectory, and the prestigious publications where her work has appeared, read her Bio. We have sections on keynote speeches, hotel photography tips for hoteliers, and we share news on conferences, awards, interviews with hotel experts, exhibitions trends and travel.
Michelle also manages to find time for a number of ongoing Personal Projects, including the award-winning The Pool of Life, and you can read her individual take on various photographers, themes and topics in Contemporary Art Photography.  For friends who prefer to read in Spanish, a selection blog posts are also available in Entradas en español.
We do hope that you enjoy our Hotel Essence photography blog – you can Subscribe to the Blog and we would love to hear from you in our comments section.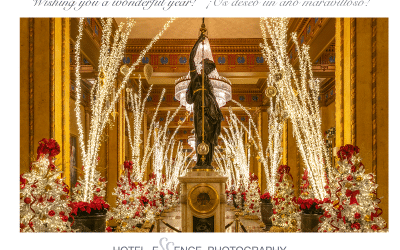 Happy New Year from Hotel Essence Photography. This year we photographed the magnificent Christmas decorations and the iconic Mystery Lady timepiece at the Roosevelt Hotel in New Orleans.  This unique conical clock stands proud in the lobby of the historic hotel. It...
This blog has been created to blog about travel, photography and hotels. Three great subjects that so many love, the world of travel, photography and hotel life. Tales of world travel from a Michelle Chaplow, founder of Hotel Essence Photography a professional travel photographer with 20 years experience in the field. A blog with a passion for travel, photography and hotels of both the luxurious an quirky kind. Michelle participated in a course on International Contemporary Photography. The course was organised by the Contemporary art Museum in Malaga (CAC) and the Valentín de Madariaga foundation in Seville, Spain. This blog will also serve as a showcase to highlight Michelle's images with a contemporary angle.