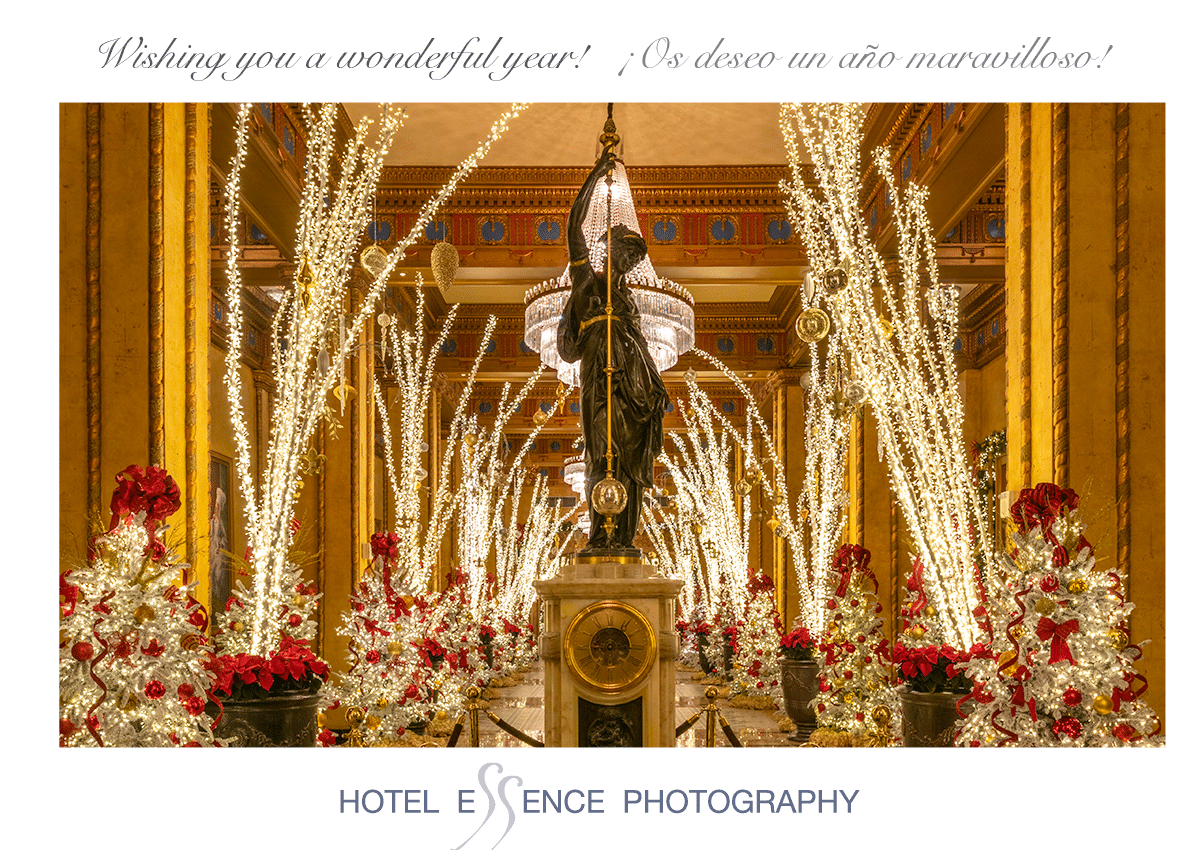 Happy New Year from Hotel Essence Photography.
This year we photographed the magnificent Christmas decorations and the iconic Mystery Lady timepiece at the Roosevelt Hotel in New Orleans. 
This unique conical clock stands proud in the lobby of the historic hotel. It is called a conical clock because its pendulum – the lady's gilded sceptre – moves in a circular motion, as opposed to a regular clock, whose pendulum swings from side to side.
Designed by French clockmaker Eugène Farcot and sculptured by Albert-Ernest Carrier-Belleuse (who mentored Auguste Rodin), the three-metre timepiece dates back to 1867, and was displayed at the 1867 and 1878 Paris Expositions. The bronze lady is robed in a long gown and holds a golden sceptre; her base is carved from Algerian onyx. 
According to Waldorf Astoria magazine, "Mystery Lady is the largest conical clock known in existence—half-statue, half-engineering marvel, with bells that chime on the hour and half hour."
Just after Thanksgiving, Hotel Essence Photography was also commissioned by The Fairmont San Francisco to photograph their world-famous eight-metre-tall gingerbread house, as well as the hotel lobby, and lifestyle photography with a backdrop of magnificent festive decorations. 
Another highlight of the year was the new opening photography of Cashel Palace in Tipperary, Ireland, a proud member of Relais & Chateaux.
This extensive hotel project covered architectural photography, interiors, portraits, details, the spa, and gastronomy. Hotel Essence not only documented the beautiful spaces, but also captured the very essence of the hotel. 
The year drew to a close with a Keynote speech on the New visual narrative for hotel photography, a topic extensively researched by Michelle, and delivered at the Annual Conference of Historic Hotels in Point Clear, Alabama.
Many thanks to all our clients and friends for their support during 2022, and we look forward to collaborating with more luxury historic hotels in 2023, enabling them to portray themselves in their very best light with the highest quality imagery.
Michelle, Allan, Marcos, Chris, Rosemary, Andres, Joaquin and Sonja send our best wishes to you for 2023.