How to style a hotel bed – Hotel Photogrqaphy Tips & tricks.
by Hospitality photographer Michelle Chaplow & room stylist Sonja Haberstroh
Beds are indeed very complicated to photograph. So how do we overcome this problem, especially as the camera is unforgiving, and will pick up many more imperfections than the naked human eye? Every last crease, crooked fold, the tiniest tear or loose thread, will stand out in the photo of your hotel bedroom, marring that all-important first impression. However beautiful the furniture, the bed linen, the decoration … if the eye is distracted by almost imperceptible defects, then a prospective guest is likely to click away from the room – and from your hotel.
We are here to help make sure that does not happen – read our tips on how to capture the perfect camera-ready hotel bed.
How to create quality hotel bedroom photography: 12 tips from Hotel Essence Photography
1. Always be mindful that housekeeping-ready is not the same as camera-ready. Once the housekeeping staff have left the room clean and tidy, the work begins in earnest to create the photo-perfect bed. Never expect a photography crew to open the door of a bedroom and start shooting immediately; this is the moment when the all-important styling begins. This process will transform a pristinely clean room into one that is professionally plumped, preened, and fully prepared for its photo moment.
2. Sheets and pillowcases need to be ironed: industrial hotel laundries, with their large rectangular presses, can add creases so sharp that they are difficult to remove. Our stylist always travels with professional steam-ironing equipment and we carefully pin everything into place.
3. Ideally the sheets and pillowcases should be brand new, as the fabrics will be in prime condition.
4. Feather pillows are a delight to sleep on, as they feel extremely soft and comfortable, but they do not look good in a photograph due to the natural movement of the feathers – they tend to be uneven, with random dips and mounds. Extra filling is required to achieve that luxurious, evenly-shaped look
5. In the same way that we plump up cushions on sofas, the pillows on a bed also need to look full and smooth, with perfectly angular lines. We use a special upholstery banting inside the pillowcase to give that super-smooth effect.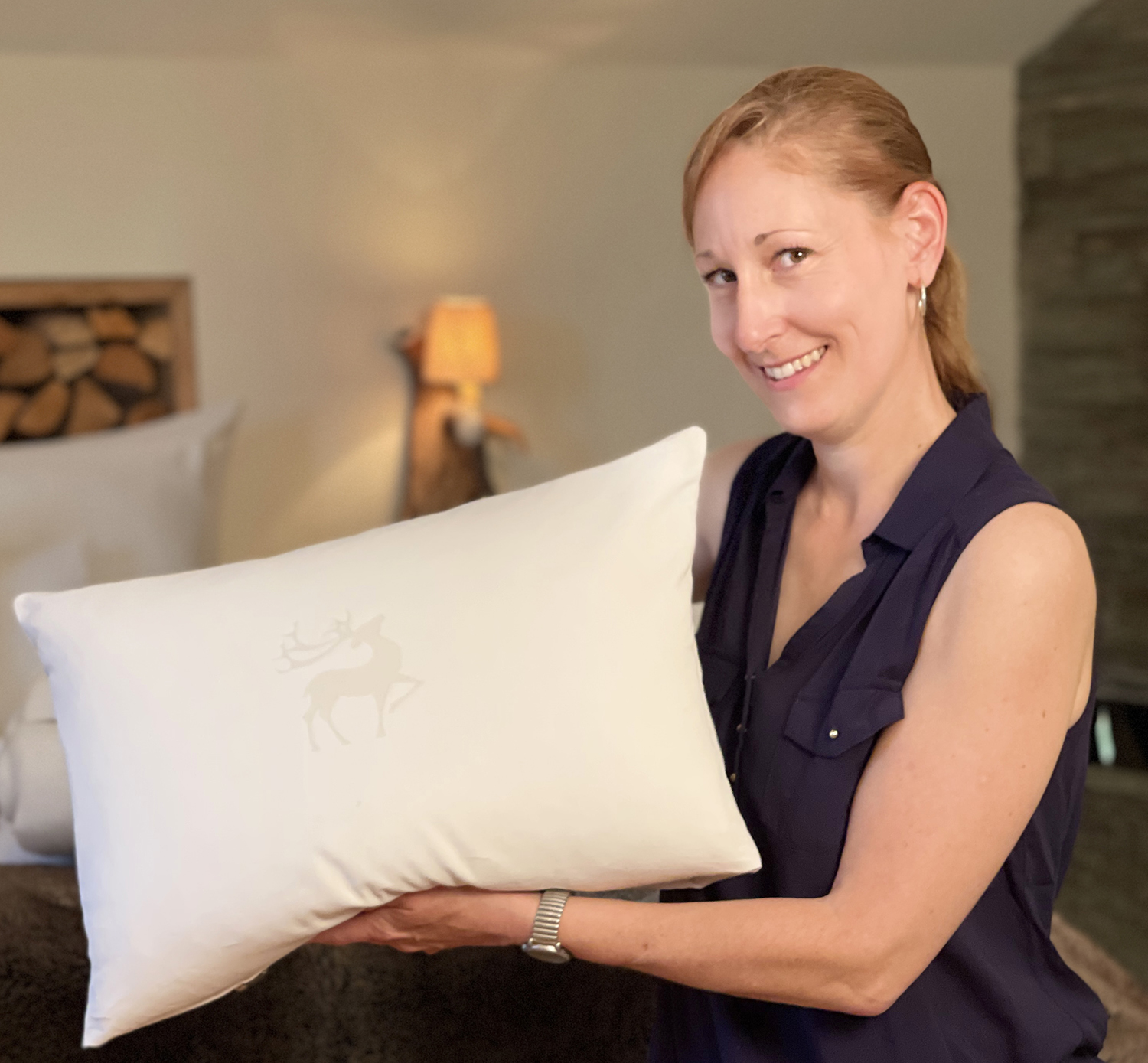 6. If pillows have an edging, it needs to be standing proud, but not so stiff that it looks like a rigid frame. In addition, fabrics need to show texture – our stylist has all kinds of tricks to ensure that once photographed, guests will be longing to lay their heads on your hotel pillows.
7. Neat hospital corners: the classic hospitality trait that sets an excellent hotel above one with less attention to detail. Again, our stylist will check that no unsightly creases or seams are visible.
8. Decorative cushions and runners can add colour and style to a hotel bedroom; both need to be perfectly placed by an experienced room stylist, so that the shot is balanced and aesthetically pleasing.
9. The turn-down in soft, glowing evening light can be an interesting moment to capture the imagination of guests. You can draw in potential clients, so that they are one step closer to climbing into the bed.
10. Valances can present a challenge to a room stylist, as that perfectly smooth look takes considerable time to achieve, but is well worth the effort
11. Crisp white sheets are classic and very visually appealing; all you need to complete the shot is a bedside lamp and a vase of flowers, to provide a touch of form and colour.
12. Allow plenty of time for the hotel photographer and stylist to work together on planning the shots; it may well take around an hour to prepare the bed. Think of all the potential reservations you will receive, thanks to the superb image of your bed: time invested is proportionate to quality achieved.
You might be interested to know that the average time taken for the Hotel Essence photography team to style and shoot a bedroom is around two hours. This same photograph will last the hotel at least five years or until the room is refurbished – that's a lot of room nights, and a good return on investment.
Styling a hotel bed is an art form and we have aquired the skills over many years of experience.
Our experienced hotel photography crew, has the know-how to capture luxurious, atmospheric hotel bedrooms in the most tempting way, thereby elevating the quality of your photographic images – and enhancing your hotel's overall image. If you would like to know more about how we can help improve your hotel photography portfolio, just drop us a line.
You may also view more examples of Hotel Bedroom Photography here and you may be intrested in our tips for Hotel Bathroom Photography too!