By Michelle Chaplow
This is the third in a collection of three blog posts, giving sound advice to hoteliers on how to choose a hotel photographer and manage that all important hotel photo shoot. Follow these tips carefully and you will have first class hotel photography with minimal disruption to the day to day running of a luxury hotel
In Part One we discussed the Key Points of exactly what you should be photographed on a hotel photo shoot, we highlighted areas of the establishment, that provide sound basis to really capture the very essence of a luxury of historic hotel.
In Part Two explained the Technical Specifications. We acknowledged that many hoteliers, know they need photos, but they have no idea to the what to ask for technically, by following the guidelines in the second post, hoteliers have the answers.
This is the third and final post. In Part Three I would like to give tips on Project Management and how to choose a Hotel Photographer for that all important photoshoot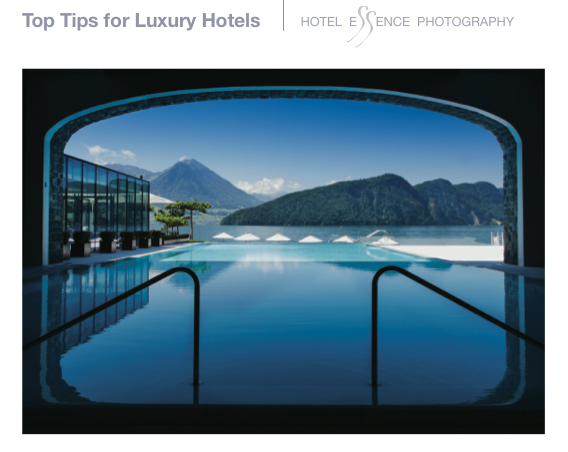 Preparation Book the photographer one or two days early to pre-plan the shoot and experience the hotel as a guest. This is a relatively small additional cost that will reap huge rewards.
Pre-shoot planning Plan ahead with the photographer to develop the production schedule from your desired shot list. Do this before the full crew arrives to ensure a smooth running shoot with minimal disruption.
Etiquette Choose a photography crew that will not look out of place in your hotel. Crews that look like shabby art students can make your guests and staff feel uncomfortable.
Make the crew feel welcome It may sound obvious, but there is a huge difference between making the crew feel welcome, and making
the crew feel that the photo shoot is causing a disturbance.
Coordination Allocate a member of staff to be
the coordinator during the shoot; this will save a lot of time.
Production shoot planning The production planning needs to be updated at the end of each shoot day. Good forward planning will ensure minimum disruption.
Assistance Appoint a junior member of your staff to help one of the assistants for any last minute details.
Models It is an advantage if the crew is experienced in casting and can help with the model selection. Staff are usually willing models and this can work well, but professionals are a far safer bet.
Waivers Ask all models, both professional and staff, to sign a waiver authorizing the hotel to use their images. This can avoid costly complications at a later date, particularly if staff subsequently move on to another hotel.


Passion Choose a hotel photographer who is truly passionate about luxury hotels
and thrives on each opportunity to communicate their essence to the world. It will show in each and every image.
Experience Be sure the professional hotel photographer has plenty of experience in communicating what it's actually like to be a guest in a luxury hotel – and has a portfolio to endorse it.
Confidence Choose someone that you feel you can trust and will enjoy working with – excellence in hotel photography is a team effort.